WELT Broadcast Set Design
Shotoku is proud to have played a key role in supplying advanced robotic systems to WELT for their impressive new Berlin studio - complete with multiple SmartPeds and TG-18i PT heads and involving multiple moving LED display panels all fully integrated with the overall automation systems.
See the recent NewscastStudio article for more images and details.
And why not watch WeltN24's great video giving a really good overview of the advanced technologies in use in this state of the art studio.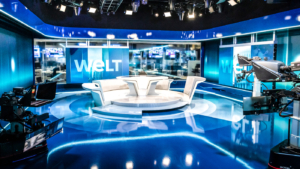 And if you liked the WELT studio,  why not visit the Shotoku page on NewscastStudio to see many more projects Shotoku are proud to have been a part of.