Complex Motion in Robotic Camera Systems
The best journeys in life are rarely A-to-B
Sometimes in life our most memorable journeys are those when we take the path less travelled.  This is true of robotic camera systems too!  Often, operators just need a camera to be in a precise position at a precise moment, and all Shotoku systems will happily fulfil that need time after time.
However, when directors want more from the camera than just hitting its mark, then something more is required of the control systems; that's where the power and sophistication of a system like Shotoku's really comes into its own.
Sequence Mode has been a standard function of all Shotoku systems since the very first release some 15 years ago.  It's not an option, it's an absolute necessity for any system aiming to be more than a basic camera repositioning system.
By linking multiple keyframe positions together in a single sequence, operators can create complex moves (or just a gentle curve if that is what's needed) which become permanently stored and easily retrieved at any moment, manually or via automation control.  The clever thing about Sequence Mode though, is that the operator simply stores keyframe shots, like any other pre-set shot – the systems then calculates, in real time, the perfect trajectory to smoothly transition through all keyframes (synchronising all axes along the way).
Operators needn't been concerned with the complicated motion curve accelerations and decelerations – who's got time for that?  Leave it to the expert systems in the robotics.  To edit or tweak the move one simply adjusts a keyframe (or inserts a new one) until the overall move is perfect.  Then it's always available – a beautifully sculpted transition precisely timed, including pauses along the way if necessary.
Enjoy the view.

Into Orbit with Shotoku SmartPed
Shotoku has also introduced a unique new function called Orbit.  Like so many Shotoku features, Orbit is incredibly valuable in countless situations, yet simple to use under the pressures of live studio production.
Normally, moving the 'X' axis joystick will move Shotoku's SmartPed robotic pedestal in a straight line to the left or right, as you'd expect.  Go into Orbit and the pedestal immediately translates the X-axis into a perfect arc around an orbital centre point – usually the centre of the set.  Now, the operators can smoothly move SmartPed clockwise or anti-clockwise around a circular set (a very common arrangement today) concentrating on the framing of the set without having to think about driving the pedestal base in an arc manually.
Sequence and Orbit are standard, no additional cost, features of Shotoku's TR-XT control system, and if you'd like to know more please visit the SmartPed product page to watch a short video explaining the two modes.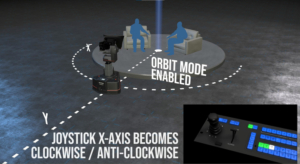 This article first appeared in InBroadcast's March 2021 Edition, viewable here